South Florida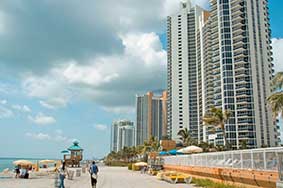 South Florida, Is Palm Beaches' famous palm-tree-lined Worth Avenue, Fort Lauderdale's beautiful scenic strip, with pubs, a merriment atmosphere and a nightlife that will sweep you off your feet. The Atlantic and Miami's extraordinary and unmatched South Beach with 60 miles of shoreline, otherwise known as — The American Riviera with a golden sun and blue prismatic skies, offers some of the most incomparable sun bathing for the bronzing enthusiast. Or you can partake in exquisite dining, red hot shopping, and fantastic clubbing to name just a few things you'll find along the coast.
Miami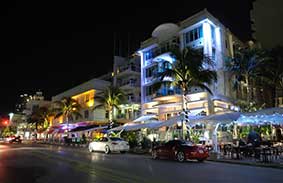 Imagine trendy-tropical and you will get an idea of what to expect from Miami. You never have to look too hard to find an activity that will catch your attention. Walk the streets of Miami and get a sneak peek at the next great trends of pop culture and fashion not to mention the entertainment.
At Miami Beach you can relax and unwind on the ingratiating beaches and take in the dazzlingly gorgeous ocean — but you're just mere steps away from cultural hotspots that houses some of the best restaurants, nightlife and entertainment locale in the world. This city is truly a cultural dynamism, just one day here and you'll come across people from everywhere like, Europe, South America, the Pacific — At South Beach, discover rejuvenated Art Deco buildings, enjoy fabulous eateries and look for the next great find at one of the stellar boutiques. If you want a change of pace, visit the Miccosukee Indian Reservation, which borders Florida's beautiful Everglades, to learn about all the important details in the fabric of Florida's history.